Probably a trapped samurai attempted to use his katana to break the stone door. However, it was all in vain in the end.
Mo Xiaofei attempted to move the stone door. With his power, he couldn't move the heavy stone door at this weight. He shook his head and simply concentrated. He only felt his psychic power being significantly consumed, but he didn't mind it.
Then, he heard a rumbling voice in front of him. This stone gate was also opened little by little under the psychic power. After finally revealing a gap enough for a person to pass through, Mo Xiaofei stopped, feeling abnormally tired at the same time.
"How heavy is this? It makes me so tired."
Mo Xiaofei wiped the sweat on his forehead. Moving this stone gate was many times more tiring than training for ten hours in the pet hospital's underground training ground.
The place exposed after the movement of the stone gate surprised Mo Xiaofei. First of all, there was already light here; the light source was an oil lamp hanging on the wall.
What lied ahead of Mo Xiaofei was a long passage. On both sides of the passage, there were many stone chambers. The stone chamber was open, with thick wooden columns fencing it. The chambers looked like a prison cell!
Mo Xiaofei frowned and looked at some of the cells. Some had clothes prepared. He even found some white bones coupled with many torture instruments in one of the cells.
Some torture instruments had even turned scarlet. It was the trace of dried-up blood. Torturous punishment must have taken place here! Worse still, it was a torture room that was used multiple times!
"What the hell is going on?"
The courageous Mo Xiaofei felt chills crept upon him after learning the secrets of this place!
This coolness rose directly from the bottom of his feet and came to the back of his neck. Mo Xiaofei suddenly turned around because he felt something approaching him at this time!
"What the hell!?" Mo Xiaofei shouted!
"Kojiro-dono!"
It was a woman's voice.
Mo Xiaofei was taken aback. The girl who appeared here was the girl who was temporarily cooperating with him, Tagitsuhime.
"Madam Muse, how come?" Mo Xiaofei recognized the person and sighed relief. The atmosphere in this place was so strange that it made him nervous, "Why are you here?"
"Kojiro-dono has been out for a long time. I was a little worried, so I came to take a look." Tagitsuhime said calmly, "I noticed the Nagato family head set up a trap on Kojiro-dono, so I came for the rescue."
Mo Xiaofei thought for a while, then said suspiciously, "Then, what about Master Nagato?"
Tagitsuhime shook his head and said, "I didn't intend to let them see me. Takamagahara has rules. I can't show myself in front of mortals. Of course, Kojiro-dono is powerful, so it doesn't count."
"Oh." Mo Xiaofei didn't think much and asked directly, "By the way, Madam Muse. I have requested you to check on Takeko's situation. Do you learn anything? What is the curse?"
Tagitsuhime frowned, "It's weird. I have checked carefully, but I haven't found any demon beast qi in this village girl's body. You know, the evil qi bound to any curse. This village girl doesn't have it at all."
"No?" Mo Xiaofei said in amazement, "Look at Takeko and the attitude of the villagers. It is clear as day that something is amiss."
Tagitsuhime nodded and said, "This baffled me too. Therefore, in addition to the village girl you asked me to look upon, I quietly checked on other village girls, but I still found nothing. These village girls only have messy spiritual qi, but that is the result of having sex with males and getting contaminated with some men's spiritual qi."
Speaking of this, Tagitsuhime's face appeared gloomy. Probably with the muse's pure body, she had an aversion to 'messy qi.'
Even the muse couldn't find out about it. Is this curse so powerful?
"Someone is approaching."
Mo Xiaofei looked in one direction at this time, "When I fell, I heard something vaguely, so I didn't leave this trap immediately. This is like a place to abuse and torture people. I am afraid they are the victim of the Nagato family's plot. I have to head over and check it out."
Tagitsuhime just nodded.
Mo Xiaofei walked quickly in the direction he sensed.
Most of the structures here were prison cells. There were twists and turns. God knows how this place was built in the first place. His auditory senses became much clearer now.
The deeper Mo Xiaofei went, the faster the airflow, blowing the oil lamps on both sides' stone walls. Under the flickering flames, the shadow of one person and one muse was continually moving.
"There are people over there!"
It was also a cell at the end of the path, and a small window was opened. Mo Xiaofei saw a figure sitting on the ground at this moment, a woman in a gray kimono.
It was just that the woman with messy hair had her back facing him. Mo Xiaofei could not make out her appearance.
Mo Xiaofei watched her shoulders shrugging slightly. Some weird voices came from her body. He approached the wood columns, "Are you okay?"
Huh… hehehe!
*A series of peculiar laughter!*
The woman turned around abruptly and rushed to the cage!
Under the light of the oil lamp, Mo Xiaofei saw the woman with messy hair. He couldn't guess the age at all. But, her lips and teeth were dripping with blood!
Her hands were caught on the wooden bars. Her palm held a mouse. Just now, she was swallowing this mouse alive!
Huh… hehehe!
She was still smiling, tilted her head with her eyes wide open. Her eyes seemed to be protruding. Her appearance was menacing. *Hehehe!*
Mo Xiaofei instinctively took a step back and hit Tagitsuhime behind him.
"Sorry, I didn't mean to… What happened to you?"
But at this moment, Tagitsuhime's face turned pale and shaky. She fell directly to the ground. She raised her head to look at Mo Xiaofei, saying weakly, "Kojiro… dono… here… This place is weird. My divine power is fading away…"
"What?"
After hearing this, Mo Xiaofei felt intense dizziness. After struggling a few times, he eventually fell to the ground like Tagitsuhime.
For his final sight…
It was the crazy woman in the cell. She stared at the party with wide-opened eyes and her mouth spurting out blood… *Hehehehe!*
Mo Xiaofei gradually lost consciousness.
…
Consciousness began to recover.
Mo Xiaofei opened his eyes and shook his head vigorously. The surrounding light was even a little dazzling, making him unable to adapt.
He got up but found that he had somehow left the underground cell and came to the forest outside.
"This place. Why is it so familiar?"
Mo Xiaofei was taken aback for a moment but saw a young girl walking with a basket on her back on the road ahead. Her head lowered down worriedly.
Mo Xiaofei opened his mouth. The girl he saw was Takeko! He entered the Unripe Rice Village area, and that was the first person he met!
"Takeko! Are you okay! Why are you here?" Mo Xiaofei rushed forward and asked.
The girl…Takeko raised her head at this moment, looked horrified, and took a step back quickly, fearing, "Who…Who are you?"
"I'm Mo… Kojiro! Sasaki Kojiro!" Mo Xiaofei quickly said, "I was at your house for dinner last night and stayed overnight. Did you forget?"
"Last night… last night?" Takeko frowned and shook his head blankly. "The first time I saw you, why were you at my house last night?"
First time?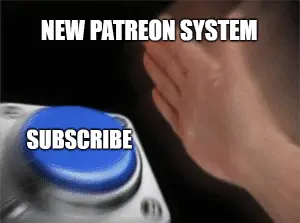 Good news: We have Revamp our Patreon system (discounted prices) and Offer a new Patreon Tier. Thanks for the community feedback, we have decided to revamp our Patreon prices to provide more for the community while at the same time not undermine the hours of effort that goes into translating. Click here to access our Patreon page. Please do check out the community goal in our Patreon as well!