Mo Xiaofei did know if the so-called samurai way had deviated far with the thinking to eliminate the weak and stay strong. In his opinion, Shinji Nagato at least thought so.
Mo Xiaofei had a conclusion long ago on how to use his power. He didn't want to change his original intention. But it didn't mean he was stubborn.
He had no news about the class president and others yet. Where did he have time to continue to chat with the Nagato family?
"Let's duel." Mo Xiaofei stood up, looked at the katana tip in Shinji Nagato's hand, and said sternly, "However, I'm not going to use my weapon."
"How dare you look down on me?" Shinji Nagato was immediately angered after listening to it.
Mo Xiaofei was unwilling to continue to entangle and say, "Well, I will wield my sword when it is appropriate. But, do you plan to do it right here?"
"For the samurai, every place is the battlefield!" Shinji Nagato shouted at this moment, holding the katana high above his head with both hands, standing in a straight line with his feet one after the other with his body leaning forward slightly. He darted forward in this posture.
For Mo Xiaofei, it was too slow.
Turning sideways, Mo Xiaofei extended his foot casually and directly put Shinji Nagato on the ground. Shinji Nagato hurriedly got up, only feeling that his cheeks were hot. He looked at his father and uncle, who were still sitting in front of him, feeling even more uncomfortable, "Damn it!"
He even slashed horizontally, seeming to be in a mess because of his anger. Mo Xiaofei took a step back and quickly dodged. This samurai's attack was incomparable to Long Xiruo's training.
—Recently, the teacher had been abusing him left and right, making him doubt about life!
Mo Xiaofei looked at Shinji Nagato's aggrieved expression at this moment, as if he had seen himself during training.
—Could it be that I have become better?
After all, he had the youth's heart and mind, but he didn't want to get delayed for too long. He intended to end this boring fight directly with Mental Shock.
Mo Xiaofei's eyes locked on Shinji Nagato's body. His eyes changed suddenly, but weightlessness struck him at this moment!
Mo Xiaofei looked down in surprise but saw that the floor he was on suddenly opened. There was a black hole down below!
*Click!*
The opened floor closed again in an instant, trapping him directly under the mechanism.
Seeing his opponent suddenly disappear, Shinji Nagato looked at his father angrily at this moment, "I can beat him!"
Master Nagato just said indifferently, "Our goal is not to defeat him but to capture him. As long as he can serve us, it is enough."
Shinji Nagato's eyes widened at this time, "I said! I can beat him!"
Master Nagato snorted coldly, "Get out!"
Shinji Nagato gritted his teeth with his wrists trembling tightly on the sword handle and finally lowered his head angrily, "Yes!"
Only seeing Shinji Nagato turn around and leave directly, Master Nagato's gaze narrowed slightly. On the side, Nagato Saburo slowly said, "Elder brother, Shinji is still young. Being too strict may not be good."
There was a rope beside Nagato Saburo. Just when Mo Xiaofei stood on the mechanism, Nagato Saburo pulled the rope to activate it.
"You don't need to intervene on how I teach the younger generation!" Master Nagato casually looked at Nagato Saburo and said solemnly, "Shut up, coward!"
"…Yes."
Nagato Saburo adjusted his sitting posture facing Master Nagato and nodded vigorously… He was the Nagato family's head with the absolute right to make the call. In the entire Nagato family, no one dared to defy Master Nagato.
As the successor, Shinji Nagato didn't dare. Him as the younger brother, even more so.
Despite the many dissatisfactions in his heart, facing Master Nagato, who controlled the Nagato family, he could only bow his head.
Master Nagato snorted again at this time, looked at the location of the mechanism, and muttered, "I don't know where Kojiro came from. Just watching the duel between him and Shinji, I knew that he must be a master. He is here because he is separated from his companion, right?"
Nagato Saburo hurriedly said at this time, "Elder brother, no matter whether he is powerful or not, as long as he is trapped underneath and starved for a few days, he will naturally have no energy. Then, we will do whatever we want! Just like the rebellious outsiders in the past. Aren't they obedient in the end!?"
Master Nagato nodded slowly and said, "Kizhirou was hiding him in private at first. If it weren't for someone to notice it and inform me… This person broke the rules. Go deal with it."
Nagato Saburo nodded, but his face was ugly.
Master Nagato suddenly smiled coldly, watching Nagato Saburo jokingly, "What's the matter? Your hands are so dirty already. Do you still have a clean place in your heart? Are you unwilling?"
"No." Nagato Saburo sighed and stood up, "I'll deal with it now."
Watching Nagato Saburo finally push the door out, Master Nagato said nonchalantly, "You should have died on the battlefield. That is the highest honor for you and the Nagato family."
Nagato Saburo's face changed slightly. In the end, he lowered his head and closed the door.
Master Nagato finally called again: coward.
He just stepped on the mechanism, stomped with the soles of his feet a few times, and made a series of thumping sounds – knowing that this mechanism could never be opened from below. Master Nagato smiled coldly and left with his hand at the back.
…
Nagato Saburo picked up something in the hallway and prepared to go out. But this time, his clothes seemed to be pulled by something. He looked back and saw a five years old girl.
The face was like a porcelain doll, delicate and flawless.
The little girl raised her head and rubbed her eyes as if she was too sleepy, "Father, where are you going?"
Nagato Saburo slapped irritably at the little girl's hand that was holding his clothes. At this moment, he glanced at the little girl's back. An elderly maid hurried forward. The maid looked at Nagato Saburo, vaguely afraid.
"Sir Saburo… The previous movement was a bit loud. It woke Miss Chizuko up. I can't make her return to her sleep…"
"Take her back!" Nagato Saburo shouted in a deep voice, "How did you take care of her!? Are you having too much easy time?"
"No, it's not…" The maid apologized repeatedly. She directly picked up Miss Chizuko, hurriedly turned away, and walked towards the corridor end.
Nagato Saburo frowned. At this time, there was a drizzle outside the house. He became more irritable. He put on a bamboo hat and went out.
…
Dong, Dong!
Hearing the sound coming from above, Mo Xiaofei rubbed his chin and let his body fall slowly. The momentary weightlessness did make his body fall. It didn't take long for him to stabilize with his body still up in the air.
He didn't break through the mechanism immediately, just because Mo Xiaofei heard some strange sounds coming from below.
Mo Xiaofei finally felt a trace of coolness from his feet. It was water.
Right below this cave, a pit filled with water should have been dugout. Mo Xiaofei estimated that the distance from top to bottom might not be six or seven meters high. If a person suddenly fell, he might break his hands and feet, but he wouldn't suffer much damage after having this puddle.
But it was too dark here without any light source. Therefore, Mo Xiaofei had to give up his sight directly and instead used sound waves to sense his surroundings.
Long Xiruo mentioned that the psychic ability was ever-changing; it had many applications. As to how to use it, he had to figure it out himself.
At this time, Mo Xiaofei used a capability he developed. Sounds were made by vibration. His auditory senses would detect these sounds. Through the transmission of sound, reflections, and so on, different vibrations were formed in his mind. In fact, it was similar to the ability of bats.
So, after a few claps, Mo Xiaofei formed a three-dimensional field in his mind.
He discovered that this place was not sealed. At least beside the dugged out puddle, there was other land. At the same time, there was a flowing air current.
Here's the door!
At the end of the passage that existed on one side, about three meters in length, Mo Xiaofei felt the presence of the door. He walked directly to the door, reached out to touch it, and knocked on it. He found that the door was made of stone.
There were many traces of different depths on the stone door as if a sharp weapon marked them out. Probably someone who had suffered the same fate as him left it here.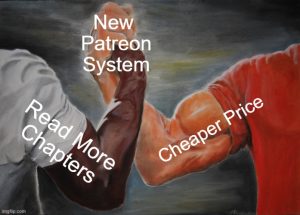 Good news: We have Revamp our Patreon system (discounted prices) and Offer a new Patreon Tier. Thanks for the community feedback, we have decided to revamp our Patreon prices to provide more for the community while at the same time not undermine the hours of effort that goes into translating. Click here to access our Patreon page. Please do check out the community goal in our Patreon as well!