The mirror formed by the lightning seemed to have been shrouded in a dust layer, causing the radiance to dim down.
As the mirror's light dissipated, the invisible thunderous roar became softer.
It didn't affect Feng Yunsheng, Yan Di, Gao Qingxuan, and the others on the deck at all.
However, to Shi Jun and the others in the cabin who was in the final most crucial moment of suppressing the Earth Devil, such changes became deadly.
Even Yan Zhaoge, who stood by the wilting tree, felt that something was off.
His initially calm mental state underwent turbulence, causing waves of emotions within.
More and more waves continued to appear.
His heart's internal darkness became nearly impossible to suppress, causing even colorful phantom mirages to appear.
"The Primordial Heart Devil?" Yan Zhaoge's heart shook. He knew that he was too close to the Earth Devil. As a result, when the Primordial Heart Devil made his move, it affected Yan Zhaoge's state of mind, causing darkness to manifest internally.
He immediately operated his arts and forcefully suppressed his fluctuation of emotions.
Arts like the Heart's Will Heavenly Scripture and Devilish arts like the Faceless Devilish Scriptures could be used to suppress the looming darkness within one's own heart. However, Yan Zhaoge refrained from using any of them.
Yan Zhaoge's mental state seemed to have transformed into a field of chaos. With no precedence, no future, no beginning, and no end, it obliterated all existing lifeforms, causing even his looming darkness to cease from existing.
After forcibly calming his state of mind, Yan Zhaoge's field of vision returned to normal.
The Primordial Heart Devil's sudden interference was no accident.
Either he suddenly grew more robust, or something had happened to the Southern Extremity Longevity Emperor.
Feeling the dissipation of the mirror's lightning, Yan Zhaoge's heart sank.
With how the situation turned out, even if the Southern Extremity Longevity Emperor intended to do something else, he could only do so after the Earth Devil was thoroughly dealt with.
With the ritual going haywire, its effects weakened. The Southern Extremity Longevity Emperor was most likely fighting against a strong foe and had no way of assisting Yan Zhaoge's side any longer.
Even if the Primordial Heart Devil himself was fighting against someone else, this was practically his field of expertise. While remaining undetected, his ubiquitous abilities could affect one from all directions.
Due to the Nine Underworlds being attacked by all other forces, the Daoism experts were relieved of their burden. While the Southern Extremity Longevity Emperor remained cautious against others, he could still assist Yan Zhaoge's side.
With how the situation unfolded now, it was apparent that the Southern Extremity Longevity Emperor had to deal with a new foe.
Someone the Southern Extremity Longevity Emperor had to face seriously was undoubtedly an expert of the Grand Heavenly Realm.
Only, with the way things turned out, Yan Zhaoge's advantage underwent a downward slope.
Without anything like the Chaotic Heavenly Devil Slaying Ritual suppressing the Heart Devil's attacks, the Heart Devil could directly interfere with Shi Jun and the others, who were brawling against the Earth Devil!
Yan Zhaoge gritted his teeth. His body flicked, and he headed towards the wilted tree's roots. Then, he transformed into a stream of light, instantly burying himself deep within the root's clump of radiance.
As soon as he entered, he was greeted with encompassing Devilish qi!
All their previous efforts of suppressing the Earth Devil had flopped, causing the entire area to be contaminated.
There only existed a thin line between succeeding and failing.
If the situation reversed, it wouldn't be a tug-of-war kind of situation anymore. Instead, the failing side would instantly plummet straight from the skies and sink deep into the abyss.
The Devils seemed like they were turning the tides of battle into their favor with how the situation was now.
The horrifying Devilish intent filled up the entire area, their weight causing others to suffocate from the pressure. Even Yan Zhaoge felt as if he was being forced down into a deep hole.
Ying Yuzhen opened her eyes, and her eyes were only filled with a layer of darkness. The crack by her forehead was gradually recovering while ocher-colored radiance continued flickering from within.
Then, she turned to look at Yan Zhaoge, "We meet once again."
The tone of her voice belonged to that of the Primordial Heart Devil!
Shi Jun's body started trembling uncontrollably, with sweat raining down from his forehead.
However, amidst his struggle, his gaze affirmed his resolution and refused to bow down to the Devil.
As if the crack on his forehead was bestowed a life, it continuously warped and moved around. Then, a voice resounded from within, "Greetings, my liege."
"Ying Yuzhen" smiled and nodded.
Xu Fei aside crossed his legs and sat down, forming hand seals with both of his hands. Just like Shi Jun, his face was filled with sweat as well. However, by forcefully maintaining his state of mind, he managed to draw himself away from being influenced.
"Yan Zhaoge, fancy making a deal with me?" In a calm tone, the Primordial Heart Devil said, "How about escorting the Earth Devil and Zhong Yuan out safely?"
Then, "Ying Yuzhen" looked at Xu Fei and smiled, "If so, I shall guarantee his safety."
The Earth Devil and Devil Monarch Zhong Yuan would be escaping using the physiques of Shi Jun and Ying Yuzhen. Without a doubt, their current self was still far too weak compared to all the Buddhists and Demon Race experts present outside.
While reincarnating was great for them, they still had to undergo the process in a safe environment. Otherwise, if they couldn't undergo the Spirit Divinity Overflowing Lid and return to their prime in time, only death would await them.
Naturally, such events weren't desirable for the Primordial Heart Devil and the Earth Devil.
Aside from Yan Zhaoge's group, the Buddhist and Demon Race factions outside would do anything to send them back to samsara.
Yan Zhaoge looked towards Xu Fei and Shi Jun. While they had a pained expression written on their face, they slowly yet resolutely shook their head.
"I present to you my utmost sincerity…" As the Primordial Heart Devil spoke, his voice paused suddenly.
Yan Zhaoge's heart shook slightly. Immediately, he sensed that some changes had occurred in the outside world.
The expressions of Yan Di, Gao Qingxuan, and others standing by the deck changed drastically.
An overwhelming power appeared by the void's outskirts. Golden lamps shone, with green lotuses blooming. The majestic chantings of Buddhist scriptures resounded, shaking the entire surrounding universes.
Everyone present, no matter if they were of the Nine Underworlds, Buddhism, or the Demon Race, their actions slowed down.
Because a Buddha, who possessed similar strength as a Daoism's Grand Heavenly Immortal, had descended upon this plane!
Moreover, the Buddha who descended possessed outstanding strength even among those of the Grand Heavenly Realm.
Even a top-notch Demon Race Small Saint like Fuluo Zi became so inferior and diminutive the instant the Buddha appeared.
Other than the Southern Extremity Longevity Emperor, who was busy dealing with someone else, another force's Grand Heavenly Realm expert had interfered with the battle.
Gao Qingxuan and the others immediately felt an ominous feeling and continued the sword's advancement in an attempt to flee from the Buddha.
However, the Buddha light as clear and as pellucid as a crystalline glaze came enveloping towards the vessel!
The radiance seemed to be ubiquitous, omnipresent, exceeding even the concept of time and space.
No matter how fast the dark-red sword moved, it was still struck by the Buddha light!
As if a vast hand descended from the skies and came crashing down on the dark-red sword-light.
With violent turbulence, the dark-red light stream was instantly shattered apart!
The instant the attack came in contact with the sword-light, their vision became blurred.
Then, a Golden Body Buddha emerged, sitting atop a green lotus. He possessed twenty heads and eighteen arms, with each arm holding a necklace, an umbrella cap, a vase, fish intestines, a vajra, treasured filer, golden bell, golden bow, silver halberd, banner, and many others. Brilliances shone from his head, manifesting golden mackerel clouds. Atop the golden clouds was a lamp, with a sarira placed within.
"Victorious Fighting Buddha!" said Feng Yunsheng with a complex tone.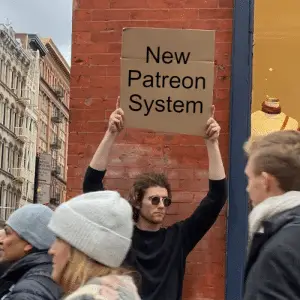 Good news: We have Revamp our Patreon system (discounted prices) and Offer a new Patreon Tier. Thanks for the community feedback, we have adjusted the Patreon prices to provide more for the community while at the same time not undermine the hours of effort that goes into translating. Click here to access our Patreon page. Please do check out the community goal in our Patreon as well!